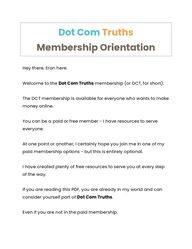 Return to flip book view
Dot Com Truths MEMBERSHIP brochure
Page 1
DOT COM TRUTHS (DCT) MEMBERSHIPThe purpose of this brochure is to give you all the information youneed to make an informed decision about whether mymembership is right for you.There are two membership tiers: DCT Tech Support and DCTAll-Access.There is zero intention to sell you either one if they are not right foryou.In fact, there is no intention to sell you anything without first givingyou true value for even spending the time to read this brochure.
Page 2
I hope you find this brochure insightful, enlightening andeducational.I wrote this brochure to educate you sufficiently, so even if youdecide not to work with me as a paying customer, you can usewhat I shared, implement things on your own and find success.Your time is precious, and I value it.As a thank you for simply reading this brochure in whole andgiving it your full attention - I will provide you with $40 credit in myonline store to grab any of my digital products.At the end of this brochure, I'll give you instructions on how toclaim it.With that said, let's dive right in!Eran BucaiReach me directly using these communication channels:contact@eranbucai.comFree Facebook group/messengerYouTube channel2 © Eran Bucai & Dot Com truths
Page 3
What problem is this membership solving?If you are a course creator, membership site owner, or coach, youneed technology in your business.Technology means a website, landing page, funnel, paymentintegrations, email follow-up, domain name, hosting, video editingsoftware, and a million other moving parts that aretechnology-related.You may not even know what half of this means and areoverwhelmed just thinking about it - I get it - that's half my clients.You probably have bought courses or coaching programs aboutcreating an online course, creating a membership, or building ahigh ticket coaching business.You are sold courses and coaching programs on how to create abusiness - that's cool.My membership and services are the glue tocomplement these courses and coaching programsthrough hands-on tech support and implementation.3 © Eran Bucai & Dot Com truths
Page 4
Creating an online business, whether it is an online course, amembership, a coaching business, ora combination, has many movingparts.A lot of pieces to the puzzle.And no matter how good the coursesyou bought or how knowledgeable youmight feel now...Connecting the pieces is where people get stuck.I'm sure you can relate.My membership solves thatproblem.It helps you connect all the piecesso you can launch, grow and scale.And continue to support you alongthe way - because the need forimproving, optimizing and workingwith technology is a never-ending part of your online business.4 © Eran Bucai & Dot Com truths
Page 5
Who is this membership for?I primarily serve solopreneurs - small business owners - who are a1 or 2 man/woman show, intending to grow it to a small team ofvirtual assistants - precisely like how I run my business.Small, fun, simple, stress-free and profitable.If that sounds like you, let's break this down further.Course creators:Like my client Ásdís, who is a 3-times Olympian. She was retiringfrom being a competitive athlete and was learning how to createan online course when we met - a course to coach other athletesabout mindset.She needed help choosing software to get it done, and with myadvice, she also pre-sold her course before creating it. Here iswhat she had to say:5 © Eran Bucai & Dot Com truths
Page 6
Membership site ownersLike my client Molly, who has been helping women with their fitnessand needed help with choosing the best software, getting used tousing it, and getting things set up and supported along the way.Here is what she said:CoachesLike my client, Marcy, a Corporate Health Coach and works withcompanies and their employees.She needed help to get her wealth of information transferred intoan online course to serve 100s of employees.Everything from how to record the training videos, to what softwareto use, to set things up - we did it all. See this icon? Click it towatch her video testimonial.6 © Eran Bucai & Dot Com truths
Page 7
Experts with offline practice/business who aretransitioning to onlineLike my client, Leslie, who helps women as a physical therapistspecializing in Pelvic Health, has an Amazon best-selling book andneeded help getting her website and funnel built. Here is what shehad to say:You can read dozens of other testimonials at the end of thisbrochure if you wish; there are 10-pages of them.And not just a bombardment of screenshots of FB posts or directmessages - genuine reviews from real people.7 © Eran Bucai & Dot Com truths Optional: Jump to page 48 to read all the testimonials
Page 8
Your Success Path as an Online BusinessOwner:I wanted to walk you through, step-by-step, the journey we allembark on as business owners and how my membership cansolve problems for you throughout the journey.It is important to note that you may already be at stage 3 or 4, andthat's okay. I have members in every stage - the service providedin the membership is applicable no matter what stage you are at.8 © Eran Bucai & Dot Com truths
Page 9
Stage 1: "I am not a techie" (optional)I was at this stage when I first learned about the possibility ofearning a living online - this was late 2016.I was on unemployment benefit at the time (I absolutely hatedgetting a handout).I had an old 2nd hand laptop that always had to be plugged inbecause the battery died within 5 minutes.I was using McDonald's free WiFi to learn about the online world onYouTube.When I needed a quiet space towork and make calls with clientsand potential clients, I used aconference room (overnight) ina storage unit where I storedmost of my stuff. My firstYouTube video (circa March2017) is a 1-minute recording ofme showing my "office". (clickthe icon if you want to watch it)9 © Eran Bucai & Dot Com truths
Page 10
I didn't know anything: domain name, website hosting, chromeextension, funnels, lead magnet, webinar, and hundreds of otherphrases and terms - these were all foreign to me.I remember watching videos on YouTube titled "what is theinternet?" and others like that.Heck, I didn't even know what social media was!It was only in April 2017 that I opened my first social mediaaccount.Additionally, there are concepts that you need to know relating tointernet safety and privacy.To help you on this stage and help eliminate that feeling of "I amnot a techie", I have a complete video series explaining all basictechnology and internet phrases.There are over 40 explainers videos that you can consume inunder 2 hours in the membership portal - these will bringtremendous clarity for you.10 © Eran Bucai & Dot Com truths
Page 11
Stage 2: The Idea StageIn this stage, your business is an idea.I have a short video series that you can go through in under 2hours (including practicals) that will help you accomplish thesethings:➔ Set up the right financial goals for yourself (there's a formulathat applies to everyone getting started no matter who orwhere you are)➔ Do the math that will get you to that goal (fun exercise, Ipromise)➔ Remove distractions in your life (detox the shiny objectsyndrome)In this stage, we will also do a 1:1 Zoom call for your softwareconsultation and onboarding.This gives me a chance to get to know you personally, give yousome personal advice relevant to your situation, and advise youon the best software for your online business.Yes, I do this consultation with every single member.11 © Eran Bucai & Dot Com truths
Page 12
Stage 3: The Focused StageIn this stage, you have:- No or few customers- No or few leads- No or small email list- No or few testimonials- No or bare website/funnel- No or unclear serviceThere are only 3 things you need to focus on at this stage.(1) Creating and perfecting your offer(2) Making yourself known and getting customers(3) Delivering excellent service to your customersRinse and repeat.Think of these 3 points as a circle of your business focus.12 © Eran Bucai & Dot Com truths
Page 13
This is called a Flywheel business model but has many other waysto describe it.Here's the blueprint to follow:(1) Get a skill that you can use to serve others - a skill they wouldbe willing to pay for.(2) Make yourself known to your immediate circle and startmarketing your new service/skill.(3) Get your first client.(4) Do an incredible job delivering the service.(5) When done, request a testimonial and/or a referral.(6) Learn from the experience and pay attention to what you canimprove and optimize. (making your offer better, making yourservice better, creating a better system, etc).(7) Use this knowledge to get a second client.(8) Get in front of other people's audiences to get your nextclient/s.Rinse and repeat.But it doesn't end there!13 © Eran Bucai & Dot Com truths
Page 14
The following steps are coming soon in Stage 4: Productizing.The deliverables you can expect on The Focused Stage to help youget results using the above steps:➢ Mini-Course on Client Acquisition, how to find customers onFacebook without paying for advertising (my #1 strategy tofind customers online)➢ Training videos and action steps to set up your initial leadgeneration funnel, email sequence, lead magnet andoptimizing your content strategy so you can start growingyour list, your audience and your customer base.Optional Done-With-You Service: This stage may be daunting forsome to do the tech set up on their own. There is an option to hireme to work with you 1:1 to get all this setup. It is all explained on thispage: EranFunnels.com/zenler14 © Eran Bucai & Dot Com truths
Page 15
Stage 4: The one-on-one StageWithout customers, you don't have a business.A beautiful website, large email list, substantial social mediafollowing - means absolutely NOTHING if you don't have payingcustomers.Why is the one-on-one stage so important?Without direct engagement with your customers, you won't knowHOW TO GROW AND SCALE your business.For example, the purpose of my sales pages is to eliminate theneed for me having to get on a phone and sell one on one.But to know what to write and say on the sales page, I need to talkto my customers and experience their questions, objections, andwhat they need to know to decide to buy from me.You may think you struggle with copywriting.But actually, copywriting is simply selling in print - selling in writing.15 © Eran Bucai & Dot Com truths
Page 16
You write the same content you would say in a 1:1 salesconversation - the information you need to give so your prospectcan make a buying decision.What I just said is easier said than done.Therefore there is a formula for figuring it out.It is called a "Flywheel".I have seen coaching programs that charge 2K, 7K, 10K and moreto teach you this concept, and they all have their way of explainingit and their fancy acronym or trademarked name.HubSpot (a softwarecompany) explainsthis conceptperfectly in less than2 minutes. Watch itby clicking this icon.16 © Eran Bucai & Dot Com truths
Page 17
There's genuinely nothing proprietary here - information is free -it's all about implementation, consistency, and focus.This concept is one of the reasons I sell my service as an ongoingmembership instead of a high ticket "8-weeks coaching program".It's ridiculous to think you're going to build a business in 8 weeks.The membership model allows me to be by your side for as longas needed for you to see results without paying any high ticketprices.Back to the flywheel concept:Your role as a business owner is to remove the friction that causesthe flywheel of your business to slow down or come to a halt.What are examples of friction in your business you can eliminate?➔ Wasting time talking with people who aren't qualified tobecome customers➔ The same question comes up again and again in everyconversation sales conversation➔ A concept you teach has to be explained again and again17 © Eran Bucai & Dot Com truths
Page 18
➔ A manual task you need to do with every client that can beautomated➔ A manual task that is a waste of your time, and can beoutsourced, so you can spend time on more important thingsHow about this friction:Spending time trying to figure out software related problems onyour own, wasting hours and days on your own, instead of havingsomeone in your corner helping you (i.e. me!).Unnecessary friction I'm here to help you remove!By eliminating points of friction, you can:➔ Get in front of more qualified customers➔ Shortening how long it takes you to make a sale➔ Automating the process of turning a stranger into a customer➔ Improving how fast and efficiently you to deliver➔ Eliminating tasks that don't directly contribute to growingyour business➔ Automating manual tasks that waste your time➔ Outsourcing tedious tasks to virtual assistants18 © Eran Bucai & Dot Com truths
Page 19
For example, you are reading a brochure right now.That is a digital asset created to add value to people like yourself,and hopefully, sell my membership.Imagine if I had to explain everything in this brochure to you andmany others, one by one, over Zoom or in-person.Let's assume it takes me 45 minutes to explain this in full, answerquestions, etc.Let's assume that I need to have 8 conversations to get 1 sale.That's 6 hours of selling to get 1 sale of $50.And don't forget, there is the time required to do marketing even toget 8 people on a phone or Zoom to have that sales conversation.Business is simple - it is all about optimizing these 3 things for youand your customers:Time, Money and Effort.19 © Eran Bucai & Dot Com truths
Page 20
Later in this brochure, I will share the core content I provide in themembership to help you succeed at this stage.That brings us to Stage 5 of the success path: Productizing YourKnowledge and Services!20 © Eran Bucai & Dot Com truths
Page 21
Stage 5: ProductizingThis entire brochure is a perfect example productizing myknowledge.I have had 100s of Zoom calls with clients where I discussedconcepts in this brochure.The difference is I am documenting it all into a brochure instead ofhopping on a 45 minutes Zoom call to discuss everything.The goal is to be able to reach many more people with less timeand hopefully generate more sales with less effort.Let me ask you this:Did you get value from what I shared so far?If so, I have one tiny request:Regardless of whether you become a paying customer or not -please share this brochure with someone you think would benefit.Thanks.21 © Eran Bucai & Dot Com truths
Click to share with your biz besties!
Page 22
In the beginning of 2021, I had a major epiphany where I realizedan incredibly powerful and simple system to productize myknowledge into slides presentations that can be turned intotraining videos, social media posts, and so much more.This system enabled me to create literally dozens of high qualitytraining videos, 100s of slide presentations, social media posts,without having to create them from scratch, without buyingtemplates, and without paying for expensive graphic designers.The best part about it - you can literally start from day 1 and havea digital product library faster than you realize.In this stage, I will teach you the high level of this system from A toZ so you can start implementing it right away in literally 3 minutes.And before you shrug about this being "only a 3 minute video"...If I can provide the same value in 3 minutes instead of 60 minutes,which is more valuable?There is no need to beat around the bush (like so many trainingvideos and webinars out there!)And if you have additional questions following that, I can answerthat inside the membership portal.22 © Eran Bucai & Dot Com truths
Page 23
And on top of this simple system:Would you like to know how to create a brochure like this,step-by-step?That's what I cover in Stage 5 of the membership.23 © Eran Bucai & Dot Com truths
Page 24
Stage 6: Automating & SystemizingOn this stage, the possibilities are endless.There is a 4 step-process I follow here:(1) Prioritize and Eliminate(2) Automate(3) Outsource(4) SystematizeLet's talk about these:Prioritize and EliminateDo you write a to-do-list in the morning or before going to bed?Good.Do you ever finish it?Never!Why?24 © Eran Bucai & Dot Com truths
Page 25
Because half the stuff on your to-do-list is a waste of your timeeven thinking about it.After I write my to-do-list, I highlight or circle the 3 things I HAVE TODO that are actually going to move the needle in my business.Everything else, I ignore, i.e. eliminate.These 3 things boil down to:(a) serving existing customers, top priority and done first.(b) finding new customers, not a day goes by that I don't dosomething in that department.(c) creating automations, processes, systems that save me time,make me more money and reduce the effort in my business.AutomateUnfortunately, as much as I want to eliminate everything thatdoesn't fall under a, b, or c above - that's not the reality ofbusiness.So what do I do if I can't eliminate it?25 © Eran Bucai & Dot Com truths
Page 26
The first option is to automate.Here's a classic example: invoicing!A small mundane task that I don't have time for and used to wastetime on.Now, I have it automated.Automating something is usually cheaper than outsourcing.What if something can't be automated?OutsourceThe next option in line is to outsource.Classic example: Taxes.Can't avoid bookkeeping and tax filing.So I have an accountant that does this for me.26 © Eran Bucai & Dot Com truths
Page 27
SystematizeThis is the last component of removing yourself from the heart ofyour business.Creating a system that works independently of you.Hiring a virtual assistant to do work for you is one thing - buttraining them is another thing completely. That's why you create asystem.Training tutorials on every hat in your business that can be turnedover to someone else to do.Documenting all the common questions you receive in yourbusiness into an FAQ library.Want to see mine? Visit FAQ.EranBucai.comI have 100s of questions answered there.80% of these were put together by virtual assistants for me.That's a system.27 © Eran Bucai & Dot Com truths
Page 28
Getting Tech Support: How it worksWhen you sign up for my tech support membership, you get:➢Under 24-hours response time through email forany tech questions.Why does it matter:When you're working on your business, 80% of the time you may dojust fine with the tech.And then it hits you - something you get stuck on.You go down the FB group or google or YouTube rabbit hole and 5hours later you're ready to smash your computer.That's being generous - some hiccups may take you days or evenweeks to resolve on your own.Instead, you have a secret email address to my help desk.You get stuck? No problem.Shoot me an email at my help desk and get instructions on how toresolve it in under 24-hours (usually a lot faster!)28 © Eran Bucai & Dot Com truths
Page 29
➢Tailored tech support to your businessYou might be wondering, how is this different to tech support ofyour individual software tool (e.g. Zenler or Kajabi)?Firstly, a lot of the tech support for the various software tools don'twork weekends or they are 9 to 5.This is terrible for those whose business is a side hustle sinceevenings and weekends are when you have time to work on yourbusiness!I'm available 7 days a week for any support tickets that come in.The tech support emails are my priority, I answer these when I getup in the morning and before going to bed, and as soon as Ireceive them if I am online (which is most of the time!).Secondly, having tech support from 1 software doesn't mean youget tech support for tools that you need in your business that youdon't even know exist!See, my tech support is about helping you remove friction so youcan accelerate your growth.29 © Eran Bucai & Dot Com truths
Page 30
This means setting up systems, processes and automations thatyou don't even know about or know are possible.No software tech support can provide you with that level ofguidance.They aren't thinking about your business, they are thinking abouttheir software features.Thirdly, I have access to your software tools so I can actually loginand record short tutorials specifically for you as needed and giveyou a superior level of help that is so hands-on you simply won'tget it anywhere else.➢Zoom call 1:1 and/or in group for tech guidance.Throughout the month, I open up my calendar for short 15 Zoomcalls with anyone who needs tech support that is difficult toresolve through email.This means hopping on Zoom, sharing screen, and gettingwhatever challenge resolved.30 © Eran Bucai & Dot Com truths
Page 31
There are limited spots every month for the 1:1 calls, so this wouldbe a first come first serve basis - and is reserved to solving issuesthat require more than an email correspondence.Depending on the growth of the membership size, this maytransition to adding group calls to accommodate for people'squestions that way.➢Core content for each of the Success Path stages:*Note: the lessons marked with an asterisk are going to be addedand delivered once the membership cart closes.Each Success Path Stage has core content that is relevant and isdocumented into a self-study self-implementing video series.31 © Eran Bucai & Dot Com truths
Page 32
Stage 1: "I am not a techie"Core content includes:- Internet Basics Explainer Video Series- Internet Safety Explainer Video Series- Digital Citizenship Explainer Video SeriesStage 2: "I have a business idea"Core content includes:- Removing distractions- Outlining financial goals- Doing your business math- Bonus explainer video series about finances- Bonus explainer video series about research and study skillsStage 3: Business focusCore content includes:- Client Acquisition mini-course on how to find clients onFacebook without paying for advertising- Lead Generation Funnel Mini-Course- Audience Building 101 Workshop*- DIY Website Design Workshop32 © Eran Bucai & Dot Com truths
Page 33
Stage 4: The 1-on-1 phaseCore content includes:- Offer Creation Workshop*- Social Proof Workshop*- Scaling your 1:1 to group, membership or digital productsWorkshop*Stage 5: Productizing your knowledge and serviceCore content includes:- Creating an eBook on Canva Workshop- Google Docs Workshop- Creating Videos on Canva Workshop- Canva 101 Workshop*- Course Creation Workshop*- Pre-selling your course workshop*Stage 6: Automating & Systemizing your businessCore content includes:- Hiring your first VA workshop*- Project Management Workshop*- Re-purposing and multi-purposing workshop*33 © Eran Bucai & Dot Com truths
Page 34
Every step of the way requires utilizing software to get thingsdone.My membership content and ongoing support is the solution toimplementing these stages and using software to get to yourgoals faster.34 © Eran Bucai & Dot Com truths
Page 35
DCT All-Access Tier:While my focus in the marketplace is to fill in the void of tech help, Iam also offering an all-access tier for those who want to go all-inand learn from me as a business coach too.This tier is simply an all-access level to ALL my informationproducts as I release them (in addition to the tech support).These are beginner guides, eBooks, templates, video courses, andother information products - all sold individually.For example, here are the courses that are already available forpurchase individually:●Beginner's Guide to Email Marketing & Video Course = $97●Client Acquisition Course: How to find customers on Facebookwithout paying for advertising = $297●YouTube SEO Guide: How to rank on page 1 instantly = $49●YouTube SEO Course: How to rank on Page 1 Instantly = $150●Beginner's Guide to Starting a Freelance Copywriting Business= $27Total cost for these products so far: $62035 © Eran Bucai & Dot Com truths
Page 36
Additional products on the roadmap to be created:Kajabi DIY (do-it-yourself) Website Design (guide + course)Zenler DIY (do-it-yourself) Website Design (guide + course)DIY Website Design Course (general to any software)Shiny Object Syndrome Detox 5-days ChallengeBeginners Guide to Affiliate Marketing (guide + course)Sales Funnels (guide + course)Creating Course/Membership (guide + course)Hiring and Managing Virtual Assistants (Guide + course)Getting Booked as a Podcast Guest (guide + course)Search Engine Optimization (guide + course)Content Creation (guide + course)Update the YouTube SEO + Client Acquisition courses aboveNon-members will pay full-price if they wish to buy theseindividually.DCT Tech Support Members can buy these individually for 50% off.DCT All-Access Members will get full access to all these productsincluded for a low monthly subscription.I'll get to the pricing in a moment.36 © Eran Bucai & Dot Com truths
Page 37
Bonuses:Joining any membership tier will earn you a few bonuses that arecreated purely to help you with implementation.Bonus #1: Zoom Software Consultation 1:1At the appropriate point in the membership (early on), there is atraining video where I explain the 3 criteria you need to considerwhen choosing the best software for your business.After watching this training, there is a simple practical for you todo, a questionnaire, and then a calendar booking for us to hop ona Zoom call and help choose the best one/s for you.Bonus #2: Swipe PagesSwipe pages is a software tool I've purchased 250 licenses - it isperfect for Instagram link in the bio, but can also be used forlanding pages.If required, I have these licenses available to share with mymembers for a very low fee. (we're talking under $100 a year)37 © Eran Bucai & Dot Com truths
Page 38
Bonus #3: Elementor:Elementor is a WordPress plugin that helps create pages withoutany technical background or experience. I have purchased 1000licenses and if needed, I'm happy to share these with you if wedecide WordPress is the right tool for you.Bonus #4: GrowthWorksGrowthWorks is a software tool that is designed to helpentrepreneurs clarify their messaging and generate assets theyneed in their business.If you struggle with copywriting - this software will help.Here is how it works:You go through a step by step questionnaire:●Who is your ideal customer?● What do you sell?● What is your price point?And so on.38 © Eran Bucai & Dot Com truths
Page 39
That's called campaign planning.Based on this campaign planning that you do, the softwareGrowthWorks generates you with a 27 email sequence campaign,sales video script, (as an example).This is particularly applicable to those who are selling a premiumcoaching program.I have purchased an agency license which means every DCTmember can use this software for free.Bonus #5: Bloo project managementStage 6 is automations and systems.Online project management is a big part of being a lot moreorganized with your own work - and for managing virtualassistants.There are quite a few tools you can use.Asana, AirTable, Trello, ClickUp and more.39 © Eran Bucai & Dot Com truths
Page 40
The pricing of these software companies is mostly based on thenumber of users. So the more virtual assistants you have, the moreexpensive it gets.To solve that, I have a partnership with a company called Bloo.This is the project management tool I personally use to organizeand manage my virtual assistants and most of the ongoingprojects in my business.With Bloo, I get unlimited storage, unlimited users, unlimitedprojects - for a low monthly fee.The advertised price on their website is $50/month.DCT members get a 60% discount, i.e. $20/month.Bonus #6: Simple BookletWhat do you think of this brochure?Do you like it?It was created on an incredible software tool called "SimpleBooklet".40 © Eran Bucai & Dot Com truths
Page 41
Simple Booklet gives you 1 booklet for free with limitations.Example of limitations:No more than 50 pages (this brochure is too big on the free plan).No custom domain.If you want to sell digital products using Simple Booklet, have acustom domain, remove the limitations, and use all the amazingfeatures they offer, you need to be on the business plan which is$60/month.Their lowest plan with some limitations removed and 3 booklets is$15/month.Instead, I have a partnership agreement with the companyco-founder where I have permission to use my account to giveheavily discounted pricing to my customers.1 booklet with no limitations and all available features, $36/year.5 booklet with no limitations and all available features, $99/year.For DCT members-only.41 © Eran Bucai & Dot Com truths
Page 42
Bonus #7: Surprise Software ReleasesIf you read stage 5 again, productizing your knowledge andservices, you would have noticed that I wrote about creatingsoftware.That's something that I'm doing.There are problems in my business that I need solving - andsometimes I couldn't find a software that solves that problem.So I started getting those created.My first software release is LinkRedirect.io - published andavailable.My second one will be ShareButtons.io before the end of 2021.And more are coming… that's all I can say for now. It's just a matterof time, resources and sequence before I release those.Some will be free, some will be paid. But DCT members are at theforefront of my mind to try and offer these for free to them wherepossible or at least at a member-only pricing.42 © Eran Bucai & Dot Com truths
Page 43
Bonus #8: Members-only pricing and accessIf it was up to me, I would spend all day creating the courses,guides, workshops, and information products I outlined in thisbrochure.I would spend my efforts creating free content for YouTube andwriting blogs.But doing that doesn't pay the bills very fast… it's a slow process toreally build income streams from these channels.But there will come a point where I earn enough from mymembership and affiliate marketing, that my 1:1 freelance work willno longer be available at my current pricing.Like any business, when supply is low, demand is high and pricesgo up.And so will my 1:1 freelance work.Except for paying members of the tech support membership.I'll continue to make myself available to them when needed nomatter how much I have on my plate.43 © Eran Bucai & Dot Com truths
Page 44
Membership Plans & Pricing:There are 2 plans for the Dot Com Truths Membership:● DCT Tech Support = $50/month● DCT All-Access = $79/monthThe single difference between the two plans is the All-Access plangives you access to ALL my information products, courses, guides,as I release them (as outlined in chapter "DCT All-Access Tier".Note: Existing members (aka founding members are ALL on the$79/month plan no matter at what price point they joined).44 © Eran Bucai & Dot Com truths
Page 45
A coffee trial:I'm gonna make this a no-brainer for you.➔ Sign up for a 5-day trial for the price of a cup of coffee.➔ All the content is available immediately, no drip.➔ Consume what's there now and make the most out of it.➔ Claim all the bonuses you want.If you're not blown away by the value and want to stay, cancel onyour own with one click from your account without evencontacting me or my support team.I'll even refund you the trial payment if you feel your time waswasted.I am so confident in the value provided - I want you to feelcompletely comfortable with your decision and trying this out withZERO risk.Visit: Eran.link/coffee to sign up.45 © Eran Bucai & Dot Com truths
Page 46
Cancellations:Couple of housekeeping issues to answer:What is the cancellation or refund policy?There are no refunds.There is no lock-in contract or minimum commitment.Cancellation is done with 1-click in the member portal.You don't even need to email me to ask to cancel.Although I would greatly appreciate hearing your feedback if youdecide you're not getting your money's worth so I can get thissorted.There is a cancellation checklist that you can access from themembers area to ensure you maximize what was available in themembership before cancelling (i.e. getting your money's worth).46 © Eran Bucai & Dot Com truths
Page 47
Can you upgrade or downgrade your membershipplan?You can do that any time by emailing me onsupport@eranbucai.com.If you decide to downgrade from All-Access to Tech Support, youraccess to the information products will be revoked unless you paidfor them in full separately.Other questions?Email contact@eranbucai.com with any additional questions - I'llbe happy to answer these.If you've seen enough and are ready to join, visit: Eran.link/coffee tosign up for a trial.Next you'll find all my testimonials and how to claim the $40 creditI promised at the beginning of this brochure.47 © Eran Bucai & Dot Com truths
Page 48
Client Testimonials:48 © Eran Bucai & Dot Com truths
Page 49
49 © Eran Bucai & Dot Com truths
Page 50
50 © Eran Bucai & Dot Com truths
Page 51
51 © Eran Bucai & Dot Com truths
Page 52
52 © Eran Bucai & Dot Com truths
Page 53
53 © Eran Bucai & Dot Com truths
Page 54
54 © Eran Bucai & Dot Com truths
Page 55
55 © Eran Bucai & Dot Com truths
Page 56
56 © Eran Bucai & Dot Com truths
Page 57
57 © Eran Bucai & Dot Com truths
Page 58
$40 creditAt the beginning of the brochure, I promised you $40 credit just forreading this brochure.If you signed up to my membership (any level and finished thetrial), go to the welcome email you received from me and replywith your PayPal email address - I'll send you $40 or I'll do onebetter - give you $80 credit in my store for ANY of myproducts/services, including 1:1 sessions.If you didn't sign up, that's totally cool - I would love to hear yourfeedback on this brochure.I have a few questions for you to answer (short questionnaire, 2minutes) and when submitted you'll be given a coupon code touse on any of my online store products.Simple.Go to DotComTruths.com/40credit58 © Eran Bucai & Dot Com truths
Page 59
Sharing is caring!Know anyone who might benefit from this?Please forward them this link.Eran BucaiReach me directly using these communication channels:contact@eranbucai.comFree Facebook group/messengerYouTube59 © Eran Bucai & Dot Com truths
Click this button to share!